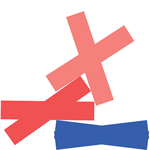 My practice explores our collective and individual relationship with technology. What is technology to us? Who is technology to us? And who are we to technology? To approach these questions, I make software sculptures where I write custom computer code and combine it with sculpture. By putting software 'in the round' I subject it to modes of looking more temporal and spatial than conventional screen-based consumption. Conversely, by augmenting sculpture with software, my work opens up the idea that sculpture itself is a machine performance.

In the studio, I draw heavily on my professional background in videogames and artificial intelligence as well as an academic background in theoretical mathematics and animation. Code and mathematics operate beside artist materials such as plaster, wood and found objects. At the heart of my software sculptures are videogames where the controller cable has been cut and the games are left to run in sculptural playgrounds, sculptural prisons.

Critically, I am very interested in ideas of computability and machine subjectivity. In the 1930s Alan Turing proved that some problems can not be solved computationally, but he also proposed that machines might one day appear indistinguishable from people. If we explore the edges of the computable and what it means to be a limited machine, might we also develop new understandings of what it means to be a limited person?